Every year there's a new "hot" design trend. You know the saying "out with the old, in with the new." But the most important thing about home design is to reflect your own personal style and incorporate the trends that work for your family's lifestyle.
This year, we see some new exciting design trends as well as some old favorites that might just need some freshening up. Let's explore some trends for 2023.
Open Floor Plans
Open floor plans are here to stay, but they have become controversial since so many homeowners work from home and need quiet spaces to focus on business. The modern workday requires privacy, yet open concept design encourages families to come together for everyday life.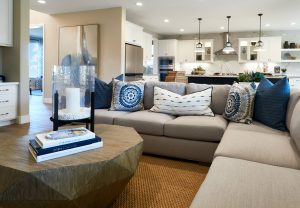 We've solved this dilemma at Cardiff at River Islands with bonus rooms, flex rooms and tech spaces that make the perfect home offices. It is possible to strike just the right balance of private work spaces along with open plan living spaces, great rooms, and kitchens that are ideal for relaxing with family and entertaining friends.
Organic Materials and Earth Tones
Nature inspires us all. As we move into 2023 more homeowners are using organic materials and earth tones in their interior designs according to Forbes.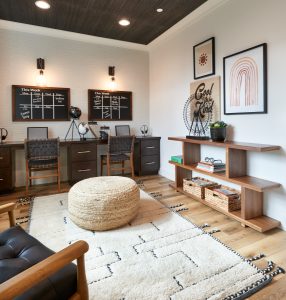 Organic, textural woven materials like wicker and rattan, plants and greenery, along with a mix of textiles like wool, linen and leather can create a warm and soothing environment.
Soothing neutrals, earth tones, natural wood and organic materials and sustainable elements in interior designs can help create a peaceful place to live.
Since nature has a calming effect on us, an indoor/outdoor lifestyle is an important aspect in any new home. The California Rooms at Cardiff at River Islands provide a seamless transition of indoor/outdoor living, dining, and entertaining.
Energy Efficiency & Sustainability
We've all become more aware of green living, sustainability and how our lifestyle can impact the environment. At Signature Homes, we take those concerns to heart and make energy-efficient and environmentally friendly features a top priority when building a new home for you.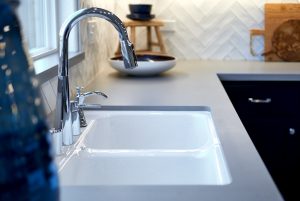 According to a study by Simon-Kucher & Partners, the demand for energy-efficient homes continues to grow. Our team selects features and smart home devices to meet the needs of today's homebuyers.
At our Acacia gated community in Oakley, you'll find highly-efficient features that save energy and water, including Low-E windows and sliding glass patio doors, high performance insulation, a smart thermostat, WaterSense® certified faucets, an Energy Star® dishwasher, LED recessed lighting, electric vehicle capability, and many more energy-saving features. Signature Homes is proud to incorporate these green building techniques in all our new home communities.
Moody and Dramatic Spaces
Add a burst of color! Be unpredictable with an accessory. Go bold.
It's time to add contrast to your kitchen. White and dark contrasting cabinets with patterned countertops add interest to your home. All white kitchens are still popular, but nothing makes a kitchen more stylish than a strong accent color. This adds sophistication to make even a busy, family-filled kitchen look trendy. Spice it up as well with Pantone's 2023 Color of the Year, Viva Magenta, for a pop of color that's a dramatic twist.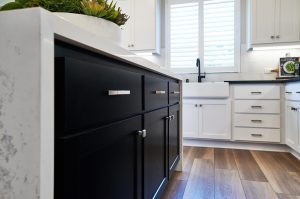 High-contrast kitchen style takes center stage at our Legacy at Folsom Ranch community. The bright airiness of the white quartz kitchen island with the dark stained lower cabinets, surrounded by white kitchen cabinets adds an upscale look to this new gourmet kitchen.
A Love of Organization
Who doesn't love to be organized? And everyone always wants more storage – especially in the kitchen and laundry room.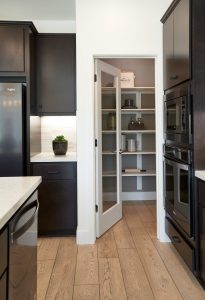 Explore the spacious pantries and laundry rooms at Legacy at Folsom Ranch. These walk-in pantries provide ample space for food and extra kitchenware. Make the most of every inch of pantry space with some creative uses, such as a coffee bar setup or wine fridge!
Homeowners are always looking for functional use of laundry space, so we design laundry rooms with attention to detail including ample counters, cabinet storage, and a laundry sink in a bright organized space to make your laundry routine easier and more pleasant.
Incorporating your personal style along with just the right design trends is essential in making you feel at home. At Signature Homes, we know it's important to stay up to date with what trends buyers are looking for in their new homes. The neighborhoods we create incorporate new trends that meet our homebuyer's needs, while creating functional, affordable, and stylish designs that last a lifetime.
Happy designing.
Signature Homes