SIGNATURE HAS YEARS OF EXPERIENCE IN HELPING
FAMILIES FIND AND BUILD THE HOME OF THEIR DREAMS
LET US TAKE THE MYSTERY OUT OF THE NEW HOME BUYING PROCESS FOR YOU
INVESTING
IN YOUR
FUTURE
---
Buying a new home is a big decision. Signature Homes is here to help you through every step of the way as you purchase your new home, and we'll be there to guide you in caring for your home for years to come. Our whole team is committed to making your new home experience as easy and enjoyable as possible.
There are two major benefits to buying a new home compared to a resale or foreclosed home: accountable customer service and a quality assurance warranty. Signature Homes wants you to be completely satisfied with your new home and neighborhood, so we have in place solution-oriented policies designed to resolve any homeowner concerns quickly and efficiently. Every home we build comes with our Signature 1-year fit and finish warranty and a 10-year limited warranty. That's our promise to you that your home will be of the highest quality for years to come.
The window of opportunity to own a new home at an unbelievably low price is closing, so the time to buy is now. Housing market reports reveal that the bottom is here, so if you want to save big on a new home, you should act now before prices and interest rates begin to rise again. Signature Homes wants you to get the best possible value when buying your new home, so visit a Signature sales office now to lock in a great low price and take advantage of limited-time offers while they last.
You've chosen your
new home
. Now make it
your own
with
custom options
and
upgrades
.
Our seasoned design professionals work directly with you to create a home that uniquely satisfies your needs and truly reflects your style.
Signature Homes partners with top companies and brands to ensure you have the best selection of high-quality products when customizing your home. And as technologies advance and styles change, we continuously refresh our list of options and upgrades keep our home designs and amenities current. We do the research and due diligence to determine the best brands – you enjoy peace of mind knowing your home will look, feel and function just the way you want.
The interior design of a home can be just as important as the foundation, framework, and energy use. That's why Signature Homes partners with some of the best designers in the business. Our interior design professionals take the time to fully understand your ideas and expectations so they can help you unwrap your dreams and bring them to life in your new home.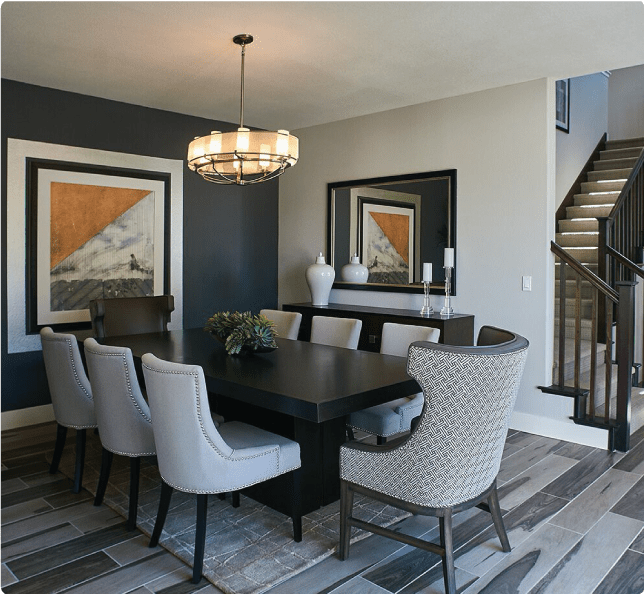 THE LOAN PROCESS
---
Understanding what it takes to finance your home is an important part of the buying a new home. Below, you'll find some useful information about obtaining your loan.
Prequalification

Information
We have developed strong working relationships with select lenders who offer competitive mortgage programs, specialize in new home financing, and provide excellent service. These lenders are also familiar with our homes, and our requirements. Signature Homes will request that a current loan pre-approval accompany any offer submitted. While you are under no obligation to obtain a loan from one of our Preferred Lenders, doing so can make the process smoother. To submit an application for loan pre-approval, you may contact a Preferred Lender at the neighborhood you are interested in.
At each neighborhood, Signature Homes works with an experienced title company to handle your escrow. Our Sales Associate will open your escrow account and be the liaison between you, your lender and the title company. The title company is a neutral third party that handles all funds in the transaction and insures the title to the property you are purchasing. A representative from the title company will contact you to sign all of the necessary documentation when it is ready. Normally, your loan will fund very soon thereafter, the escrow will close, and you will receive the keys to your new home!
DISCLAIMER: There is NO GUARANTEE, expressed or implied, for the accuracy of this information or it's applicability to your financial situation. Please consult your financial and/or tax advisor.
GLOSSARY OF MORTGAGE TERMS
Annual Percentage Rate (APR): The rate of interest on a yearly basis, which includes charges on the mortgage loan and the interest payment.
Adjustable Rate Mortgage (ARM): A home loan program in which the interest rate and the monthly payment are adjusted at regular intervals based on the changes in a specified index.
Bridge loan: A short-term loan used to quickly effect a sale while pending more conventional real estate financing. While not popular, a bridge loan can be useful particularly for certain commercial real estate deals.
Credit Score: A numerical quantity reflecting a borrower's credit worthiness. Used by lenders to find out the risk in approving a home loan.
Closing: The final step in the loan process when the seller transfers title to the buyer, the buyer signs the loan documents, and the lender releases the loan amount.
Closing Costs: Fees paid by the borrower at closing. These include charges for originating and processing the loan.
Closing Disclosure (CD): This will replace final Truth-In-Lending Disclosure (TIL) and final HUD-1.
Contingency: Any one of a number of common clauses added to real estate agreements that provide buyer or seller rights during various stages of a transaction.
Deed: An official and public document that establishes property ownership. Default: Inability of borrower to make regular and consecutive payments on a loan.
Depreciation: The measure of loss in value of a home or property. Depreciation could be driven by poor economic factors or property damage.
Down Payment: The amount of cash the homebuyer pays towards the purchase price at closing. Debt-to-income ratio (DTI): The ratio of the monthly debt to the pre-tax gross monthly income.
Escrow Account: Bank account into which the lender deposits part of the monthly payments made by the borrower. The deposits usually include payments towards property taxes, homeowners insurance and mortgage insurance.
Fixed Rate Mortgage: A home loan program on which the interest rate does not vary throughout the life of the loan.
FHA: Federal Housing Administration. Housing Ratio: The ratio of the buyer's monthly housing costs to their pre-tax gross monthly income.
Intent To Proceed (ITP): No fee may be collected, other than for a credit report, before (ITP) is received.
Loan Estimate (LE): This will replace initial Truth-In-Lending Disclosure (TIL) and Good Faith Estimate (GFE).
Maturity: Typically applied to the term of a home loan or mortgage – in other words, the life span of a mortgage. For example, a 15-year loan matures in 15 years, at which time the debt must be paid off.
Mortgagee and Mortgagor: The former is the lender offering the loan. The latter is the borrower.
Mortgage: A legal process by which you can take out a loan against your own property – residential or commercial. The same property is held as the security for the repayment of the debt.
Mortgage Note: Your written promise to pay off the loan amount on certain terms and conditions. The note also specifies what the lender is likely to do if you default.
Payment Cap: The maximum payment amount a buyer could ever be expected to pay per month on an adjustable rate mortgage.
Pre-qualification: A process in which a homebuyer finds out how much of a home loan he or she would be approved for by a lender. This gives buyers more flexibility when shopping for a home.
Private Mortgage Insurance: An insurance policy that protects the lender from losses if the borrower defaults on his or her payments.
Rate lock/Lock-in: A written commitment guaranteeing a specific rate on a loan for a certain time period before closing. Usually, rates are locked for 30, 45, or 90 days.
Short sale: Useful tool for lenders and homeowners as way to avoid the worst-case scenario of foreclosure. In a real estate short-sale, the lender give the homeowner permission to discount the home value (an outstanding loan balance) to affect a quick sale, thereby averting foreclosure.
Title: The official document that specifies the owner of a piece of property.
Title Company: A title company typically handles all tasks associated with the property title, including insurance and search.
Title insurance: Insurance taken out on the property title that protects both borrower and lender in the event of a title dispute.
Total Interest Percentage (TIP): The total amount of interest paid over the loan term as a percentage of the loan amount.
Underwriter: The company or service that evaluates a borrower's creditworthiness prior to loan and mortgage approval.