Because Signature doesn't just build homes. We build community. Signature Homes is a proud sponsor of the First Annual SMC Bay Area's Month of Giving benefiting teens and families in need. From February 1-22, Signature Homes will be gathering donations to support two HomeAid Northern California Partner Charities: SHELTER, Inc. of Contra Costa County and Dream Catcher.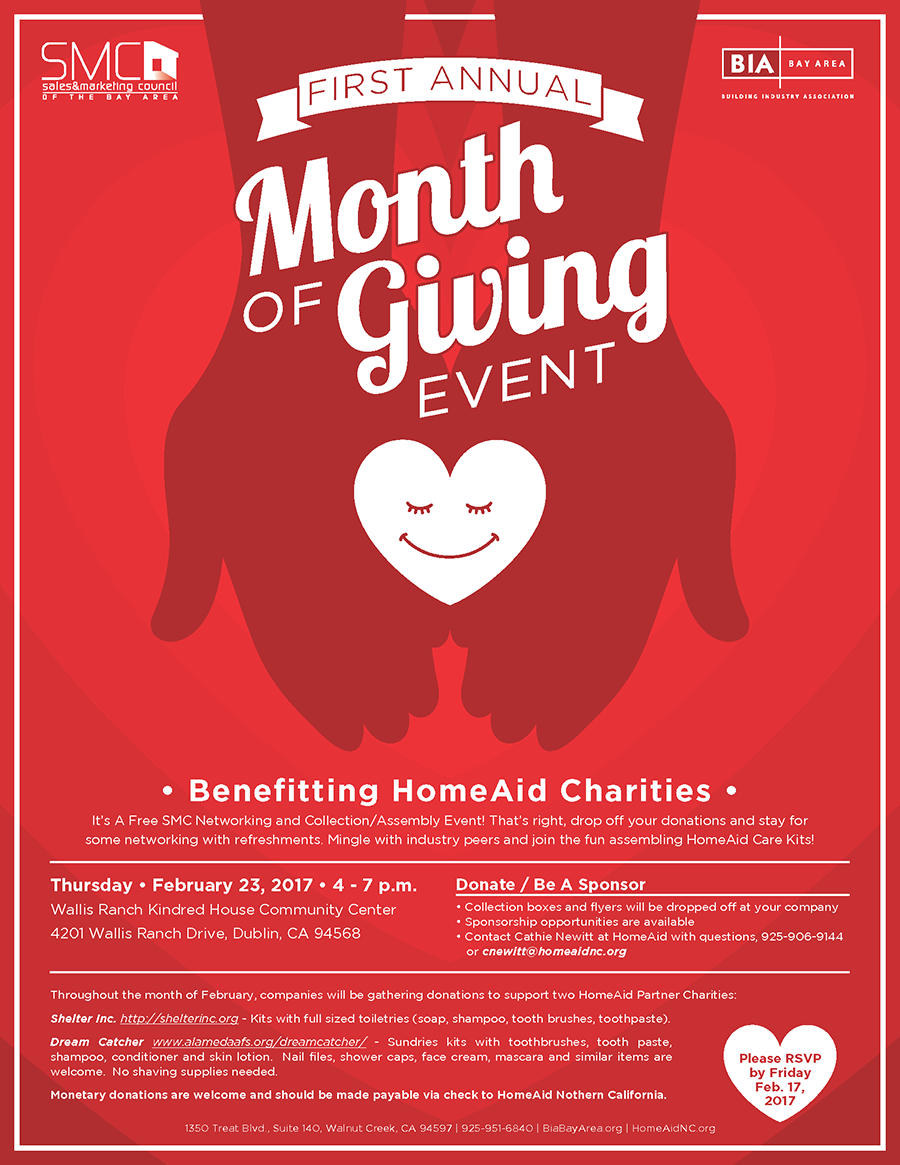 The following items will be collected at the Signature Homes main office located at 4670 Willow Rd, Suite 200 in Pleasanton.
Full sized toiletries:
– Soap
– Shampoo + Conditioner
– Skin Lotion
– Face Cream
– Tooth brushes + Toothpaste
– Nail Files
– Shower Caps
– Mascara and similar items are welcome
(No shaving supplies needed)
Monetary donations are welcome and should be made payable via check to: HomeAid Nothern California.
On February 23, Signature will organize all donations, assemble the kits, and present them to the two charities. Please join us in our effort to support SMC and these wonderful charities by dropping off donations to our office.
Learn more about these charities here:
Shelter Inc.: http://shelterinc.org/
Dream Catcher: www.alamedafs.org/dreamcatcher/
Signature Homes has embraced that tradition of hand-crafted quality for more than 30 years. Our commitment to our homeowners and our community is strong. We use green building practices and source our materials locally because that's better for the environment, for our families, and for everyone who lives and works in the Bay Area. And we give back in other ways, partnering with more than 50 local non-profit organizations to improve the quality of life for all of us.
Be sure to follow Signature Homes on Facebook, Twitter, Pinterest, and Instagram as we share news and updates about our exciting new home communities as well as helpful homeowner tips.